Want to learn calligraphy for upcoming wedding DIY's? Want to improve your writing for your planner or for greeting cards? Just looking to infuse some pretty writing in your Instagram feed? Kickstart your new found hobby with a two hour course that has everything you need. This class is designed for beginners and no experience is necessary!
My name is Sylvia and I teach modern brush pen calligraphy with the hopes that my students fall in love with lettering as obsessively as I did. Join us for an afternoon of lovely lettering and learn about what modern calligraphy is, the basic strokes and the foundational skills for writing letter forms with a brush pen. Over 300 students have already rediscovered the art of lettering through my consistent sold-out workshops. I'd love to meet you too!
---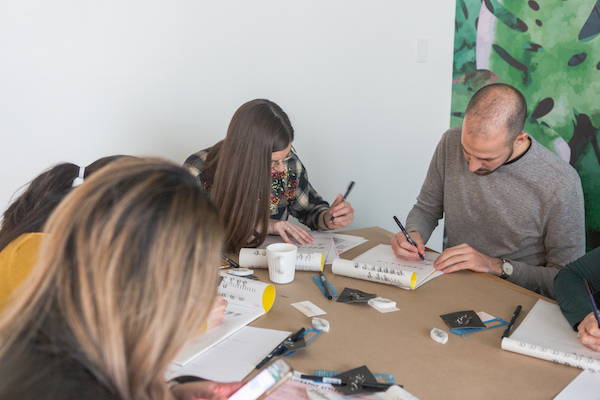 Are you kind of over the routine of going home after work and watching Netflix while scrolling mindlessly on Instagram? I was too, until I picked up a pen and started my new hobby! This is a common denominator for most students of this class, so link up with some cool new people in town while exploring your new favourite past time ;) Many of my students have even kickstarted their new side hustle!
Supplies to get you Started
Don't waste your time with trial and error of buying tools that don't work together. The course fee includes all the supplies you need to start your journey in calligraphy. I've got you covered. You'll get to take home:
Via Calligraphy Brush Lettering Worksheets
Tombow Fudenosuke Calligraphy Pen
Tombow Dual Brush Pen
Tracing Paper Pad
Customized Name Card Keepsake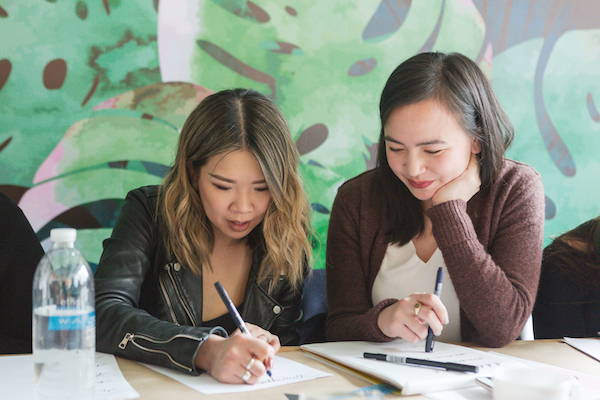 Class sizes are a maximum of 15 people, so every individual will receive one on one coaching. As an open and safe space for beginners where no experience is necessary, questions are always welcomed! We all start somewhere and if this is your first time picking up art supplies since elementary school, we encourage you to let go and get creative!
"I've been wanting to come to this calligraphy class for so long,
I've been seeing it all over the city!"
- Narcity
I absolutely adored the session! Sylvia has managed to break lettering and calligraphy down to basic strokes. I never understood how people connect the letters so nicely, but she goes through it all! Her tips and tricks were super helpful, and it was just an overall great vibe. I'm typically shy, but I had no problem asking Sylvia questions, as she was happy to demo letters/techniques. It was also great that there was a good sense of communication between participants - it's always awkward when I attend a quiet workshop, but that definitely wasn't the case!
- Camellia
Her workshops are consistently sold out (so that already speaks for itself), but I managed to get on a waitlist and finally actually make it to one, and it was totally worth the wait. Sylvia started off with her story and how she got into calligraphy, and despite having a fairly large group to work with, she still managed to answer everyone's questions, spend a few minutes with each person, and still continue to engage with the group. I definitely left the workshop feeling super confident in my abilities to be able to continue my calligraphy practice/journey and I honestly couldn't have done it without Sylvia's encouragement and enthusiasm. For anyone looking to try something new, this is definitely a must do!
- Kanwal
I took Sylvia's workshop and absolutely loved it! I learned so much from her in only a few hours. Sylvia made everyone feel very comfortable which was very helpful as a beginner. I would definitely recommend her workshop whether you want a fun afternoon with your girlfriends or you're serious about learning calligraphy. Loved it!
- Kimberly
I attended one of Sylvias workshops and learned so much! She went through her workbook in detail and helped everyone individually in their practice. She was kind, patient, and always willing to demonstrate the correct way to writing something. Because of Sylvia I got back into calligraphy and I've made so much progress since her workshop. I recommend her workshops to everyone now!
- Keya
Workshops occur once to twice monthly and every class has sold out quickly! Want to stay in the loop on the next dates and latest classes? Subscribe and be the first to get an updates on what's new from Via Calligraphy.
---
Can't make it to our local calligraphy classes in Toronto? Get the worksheets! My 13 page beginner brush lettering worksheets are formatted for small pens and are available for sale now as a digital download. Print it out as many times as you want and practice directly on the sheets or with tracing paper.
---